The ES was in Indianapolis, in Lucas Oil Stadium, on his hands and knees, once again in tears of joy, as our Michigan State Spartan football team won its
second Big Ten title in three years
and advance as the #3 seed to the Cotton Bowl in the National Playoff to take on the Great Satan - Nick $aban and Alabama. We're a 9-pt underdog.
I have lived my life for 47 years and have dreamed of this moment - to have a shot of getting to the Promised Land. Our moment is at hand.
If you are a football purist, for all those purveyors of good old-fashioned football, then this Michigan State Spartan team is your dream, it is an early Christmas gift that keeps on giving - we get to continue to watch this team as it pounds its way to Glory. The Big Ten Championship win was dominated by MSU up front in tough, ugly fashion, in a bare-knuckles fight against the Iowa Hawkeyes.
The football gods once again shined on MSU at Lucas Oil Stadium
State seemed to move the ball between the twenties but poor play calling on third downs and tight defense by Iowa kept the Big Green from doing nothing but kick field goals. Michael Geiger, who kicked the winner at Ohio State, hit three but missed a 45-yarder wide and hit the crossbar on a 53-yarder.
Iowa - give them credit - they are a DAMN FINE TEAM. They are playing in the Rose Bowl... and they should. That's the best team Michigan State faced all year.
GREATEST DRIVE IN HISTORY OF COLLEGE FOOTBALL
What was pure beauty to watch - what makes MSU the most fun team to watch in the country - was the final drive, the
longest drive I've ever heard of
or witnessed. It has to be the drive with the most plays in Big Ten history. A bone-crushing 22-play, 82 yard drive (just 3.7 yards per play) that took... get this... 9:04 out of the final 9:31 of the game. The drive forced Iowa to burn all their time outs. Connor Cook, who played OK for much of the game (16-31, 191 yards, and his usual boneheaded INT), played exceptionally well on the final drive, with a laser-beam toss to Aaron Burbridge on third down and the critical 3 yard gain to the 2 yard line on 4th down with 55 seconds left.
MVP WAS L.J. SCOTT... NOT CONNOR COOK
Not sure who made the MVP decision for the game, but they must be smoking crack. Cook played fine, but not great. However, LJ Scott played well whenever inserted into the game. He ran 14 times on the final drive, and
the winning TD
was sheer brilliance - all Scott as he spun through three Hawkeyes and reached the ball into the end zone for the winning score. THAT was an MVP performance.
REFEREE INCOMPETENCE
The Spartans had far too many penalties (8 for 80), and the Big Ten referees remain incompetent. Once again, John O'Neill and his crew (which
blew the call in the Nebraska
game) remain inconsistent, blind, and questioning their own decisions. First, one can question a phantom defensive holding call on Hicks in the 4th quarter that added to an Iowa drive; second, consider the terrible offensive pass interference call on Burbridge for throwing a pick that didn't exist.
But... what really gets my ire is the puzzling decision by O'Neill to review the video on the Burbridge out-of-bounds catch that resulted in a penalty AFTER THE REFS ALREADY RULED IN-BOUNDS. Even O'Neill didn't know what to do and called up to the conference office to see if they could even review the play... What? How can you not use video to overturn the stupidity in the Nebraska game, but you can to overturn and penalize MSU for its out-of-bounds catch by Burbridge on the final drive. This once again leads the Spartan Nation to believe MSU is targeted by the Big Ten conference as a team the conference office really doesn't want to win and will use the referees as a way to try and impose its way.
The refereeing in the Big Ten Conference is a national embarrassment and must be overhauled. Jim Delaney... wake up. This stinks like bad fish.
MSU STATISTICAL DOMINATION
When you do look at the stats, you can see that the
Big Green dominated Iowa
along the front lines (MSU 174 yards rushing, Iowa 52 yards rushing). Look at this gem:
                                    MSU     IOWA
FIRST DOWNS...................       20       13
RUSHES-YARDS (NET)............   46-174    24-52
PASSING YDS (NET).............      191      216
Passes Att-Comp-Int...........  33-16-1  27-18-1
TOTAL OFFENSE PLAYS-YARDS.....   79-365   51-268
Fumbles-Lost..................      0-0      4-2
Penalties-Yards...............     8-80     5-45
Possession Time...............    36:38    23:22
Third-Down Conversions........ 10 of 20  3 of 12
Sacks By: Number-Yards........     3-20     2-10
Other than the blown coverage by Darian Hicks on a very well thrown, 85-yard TD bomb by Iowa QB CJ Beathard that gave Iowa a 13-9 lead into the fourth quarter... Iowa was basically shut down all game long.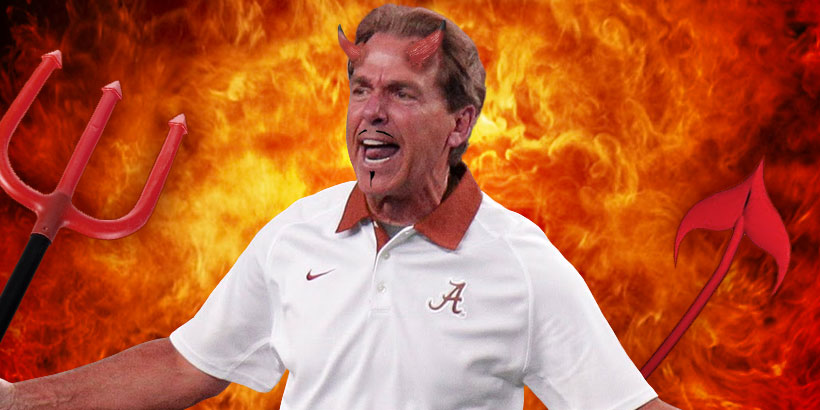 The ES to $atan: You better get ready... Bring it, you traitor!
THE GREAT SATAN - $ABAN
Yes, #2 Alabama is a 9-point favorite over #3 Michigan State. Perfect, we have them right where we want them - come join the ES in Dallas as the Spartans ruin the Great $atan's season.