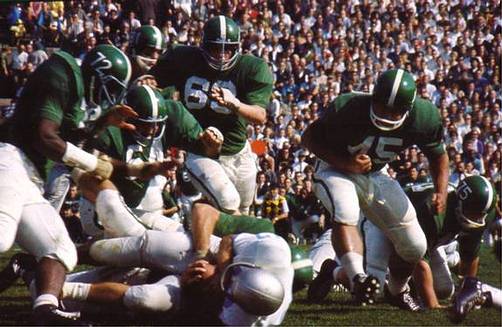 Thanks go out to the
Buckeye Battle Cry
, for which they've again reached out to the ES for some shared commentary. This time, we chime in on each others' Q&A with respect to the de facto Big Ten Championship game, MSU vs OSU, this weekend in East Lansing. AND, be sure to
check out the ES' response
to BBC.
ES questions, and BBC responses below:
ES: 1. What is the secret to the Ohio State defense this year?
BBC: The easy answer here is obviously the addition of Chris Ash but I think it goes a lot deeper. When you look in depth on a weekly basis there are still major problems with the OSU secondary. Too many time there are guys running free in the zone and has led to some long scores, particularly in the Cincinnati game.
Ash has played more press coverage than last year (let's be honest, I don't think they ever played it last year) and that's helped a bit. A big thing this year is the emergence of Joey Bosa and Michael Bennett. Teams are doubling Bennett on the inside and with Bosa lining up all over the line at any time, usually leaves him one on one.
It's hard to believe the linebackers would be better after losing Ryan Shazier but as a group they just may be. Joshua Perry has been a tacking machine, racking up 18 against PSU, Curtis Grant played the best game of his senior year last week against Illinois and true freshman Raekwon McMillan had been a complete beast on the field.
Another big reason to the success of the defense is the offense. With the offense getting off to fast starts and putting teams down 2 or 3 touchdowns early, it puts the defense in pure pass defense mode and that D line can pin their ears back and go get the quarterback.
Don't get me wrong, teams still hurt this defense with screens, bubble screens , and other quick passes. The tackling on this defense has been the best of any defense since Urban Meyer arrived in Columbus.
ES 2. Last year the Spartan offense lit up the Buckeye defense like a Christmas tree. And the Spartan offense is more prolific this year. Not that A+B=C, but A+B=C, so what grand scheme will Urban Meyer create to slow down the Spartan juggernaut?
BBC: No doubt the MSU offense is more prolific this year than last, but I don't think Urban needs to create any grand schemes, but one (see below) for Saturday. Frankly, OSU's defense in the 2nd half of 2013 was a mess, so MSU's 34 points was about average of what OSU gave up over the last 5 games of the season.
The difference this season is tremendously better line play and improved secondary play. Last year's play was softer corners, which unfortunately allowed receivers initial separation and increased potential for yards after catch. That happened way too often. As far as a Grand Scheme goes, I imagine he'll have the OSU secondary pay very close attention to Tony Lippett, who is an absolute ball-magnet for Cook. There isn't much else in the MSU receiving corps that appears to be much of a threat, so if Lippett's production can be tamped down, the juggernaut will be slowed down.
ES 3. As a representative of the Ohio State faithful, what beer will you be drinking at the tailgate this Saturday and why?
BBC: If I were a big beer drinker, it'd be Honey Brown or something from Great Lakes Brewing Company. But alas, I'm not, so I'll be drinking my usual water. Although, we hear great things about
the Land Grant Brewing Company
in Columbus as well...
ES 4. J.T. Barrett 2014 = Connor Cook 2013. Yay or nay, what say you?
BBC: "Yay", in that Cook's job last year was to manage the offense, put the ball in the hands of the playmakers, and not make mistakes.
"Nay" in that JT has had less time in the Ohio State offense than Cook did last year.
"YAY!" in the hopes that JT will make the same strides between his first season and his second that Connor did between last year and this. Of course, that will be in two years... after Braxton comes back in 2015.
ES 5. What is more worrisome? An Ohio State offense not playing a defense giving up less than 30 points per game and less than 300 yards per game.... Or, an Ohio State defense not playing an offense scoring an average of more than 30 points a game and averaging more than 450 yards of offense? Why?
BBC: Hmmmmmm.... I think if you asked OSU fans they'd say that they felt better about the defense this year than the offense at this point in the season, believe it or not. When things bogged down in Happy Valley, it was the defense that managed field position and controlled the tempo.
That being said, we'd be fine if both of those aspects of the Buckeyes showed up on Saturday- they're going to need offense, defense, AND special teams to come out of East Lansing with a win.
ES 6. Urban Meyer is to the Big Ten as Nick Saban is to the SEC. Mark Dantonio is to the Big Ten as Ole Miss coach Hugh Freeze is to the SEC. What is Buckeye Battle Cry's own college sport comparison of this battle?
BBC: Interesting question and not one I had thought about a lot before. I'm a big women's basketball fan so the comparison that jumps out to me is that this game is like a Big Ten version of the 1996 UConn-Tennessee game. At that time Tennessee was a dominant powerhouse in women's basketball, much like OSU has been in the Big Ten for a while in football. UConn was a program on the rise and gaining national respect but hadn't made it to the point where they were considered one of the elite yet, like MSU football recently. In 1995 the two teams had met in the national championship with UConn winning, propelling UConn much more into the national spotlight, much like MSU's win over OSU in the Big Ten title game and then their subsequent Rose Bowl win. The 1996 matchup between UConn and Tennessee was a big one to see in the previous year had been a fluke or if UConn was real and here to stay as a national contender every year.
I think in many ways this is how this week's game shapes up. An MSU win pretty much shows the world that yes, the Spartans are now at the top of the Big Ten and will be one of the dominant forces in the conference for a long time while an OSU win will be seen by a lot of the country as the traditional power just returning to form. While clearly I hope that the result of this game is different than in my analogy, where UConn won, I would be very happy to see something similar happen to the long term impact of that game with OSU and MSU being the dominant teams in the country building up an intense rivalry due to facing each other in nationally meaningful games.
ES 7. Describe this photo of Urban from B1G Championship Game:
BBC: "They're serving Papa John's after the game?? Dammit, why didn't we run Carlos Hyde one more time?"
BBC: The Buckeyes are members of the Patriot Rifle Conference (not sure if NRA membership required) a 6-team conference comprising of; Air Force, Alaska-Fairbanks, Nevada, Ohio State, TCU and UTEP.
This is a co-ed team comprised of 7 men and 5 women, that is currently ranked 10th in the country.
One team member with the most sport-appropriate name is junior Remington Lyman. For big matches, the team does fire Silver Bullets.
ES 9. No, really, what makes the Ohio State offense tick?
BBC: What makes the Buckeye offense tick? The same thing that makes all offenses tick and has since the dawn of the sport: The running game. It's what opens everything up, softens defenses, pulls up safeties, on and on. When the Buckeyes get it going on the ground it increases the tempo and wears the opponent down.
I wish I could tell you that there is mystery to Tom Herman's playcalling or some wizardry behind Urban Meyer and his spread. While there are certainly parts of it that are unique, ultimately it goes as the running game goes.
Of course, it doesn't hurt to have 4 and 5 star athletes in the backfield, either...
BBC: Well, two of us are ushers at Ohio Stadium, so here goes:
Tradition requires stability, and if you're going to hold 30,000 more than Spartan Stadium, you need to think outside the box. Plus, these fashionable seats are out of the weather and have some of the nicest fans in the stadium as neighbors. And you're watching the game on twitter anyway, right?