Spartan fans... I've had about enough in this football off-season. It's not pretty.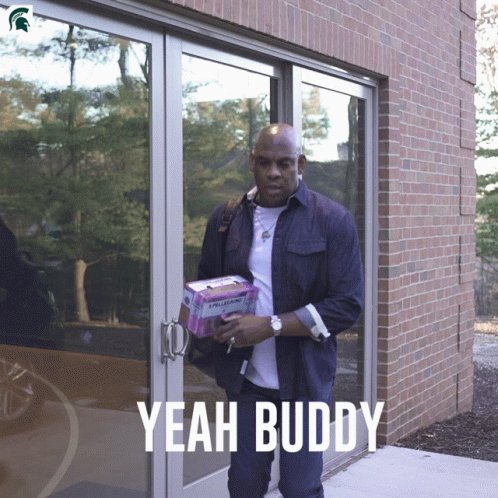 The clock is ticking, coach Tuck. How about we make a deal for $1M per win?
QB & WR? Thorne and Coleman. Gone.
Recruiting? 3 recruits... "3-star" and a #49 recruiting class.

Recent History? 5-7 season. OT loss to Indiana. What have you done for me lately?

2023 Preseason Hype? Athlon put MSU #9 in the BigTen (14)... before the departure of Thorne and Coleman.

"I'm a horesshit coach right now." Didn't get any better.

Street cred? Now, his street cred has crumbled to #47 among active coaches.

What the hell is going on?

This off-season is reminiscent of John L Smith's latter years, following half-time pep-down speeches, 4th quarter collapses, poor execution at critical times, and compiling injuries. Difference is: coach Tucker is being paid $9.5 million a year to make MSU a winner. For 10 years. How do you think $95 million could help the Lansing School District???? In hindsight, it would be a better use of money.
The verdict to date: 3 out of 4 losing seasons. 5-7 (Colorado), 2-5 (at MSU, COVID), 11-2, 5-7. The worst part, when a bowl game was on the line, at home, was the complete collapse against Indiana.

Let's discuss the Indiana game, from my seat... The ES was at Circa Sportsbook with a simple parlay: easy W vs Indiana (football), and a more challenging matchup with a W vs Villanova (mens basketball). The bookie at Vegas actually had just moved from Lansing, MI, two weeks prior, and worked for 10+ years for Terry Hanks at Sundance Chevrolet. Yeah, that Terry... horses, cheap cars, and his other reported shenanigans.

Izzo succeded, though the team fought back a tough last-minute challenge against 'Nova. But, the next morning, the ES headed to Circa to cash in his ticket because we were going to mop up Indiana. It was amazing to see the huge crowd (SRO) at Circa, with about fifty 45" tvs playing different football games. And, there was MSU, rolling over Indiana. An MSU crowd (dwarfed by everyone rooting for Illinois to beat a slugging Michigan squad [UM won]) cheered on for 3 quarters... until the inevitable. Running down the clock, then rolling out that backup FG kicker in terrible weather, from the 3 yard line, a guy who has proven he can only kick straight. Miss, Indiana with the momentum rolls to an OT win. The definition of ugly.

I kept that damn ticket. Gonna hang it on the wall, watch as Tucker either flies or crashes and burns.

The plane Coach Tuck is flying doesn't have history on its side. Sure he dresses great. Honestly, I, don't care if he shows up in overalls or in pajamas, a few more Ws are in order. Since at MSU, Mr. T is 18-14 over three years... he has been paid $28.5 million for 18 wins and one bowl appearance. It would be simple to say he should be paid, instead, $1 million per win. MSU would have saved $10.5 million over the last three years.

Here's the schedule for this upcoming year, with very early projections from the ES.

Sep 1, Cenral Michigan. Win.
Sep 9, Richmond. Win.
Sep 19, Washington. Loss.
Sep 23, Maryland. Win.
Sep 30, @ Iowa. Loss.
Oct 7, BYE (-).
Oct 14, @ Rutgers. Win.
Oct 21, Michigan. Loss.
Oct 28, @ Minnesota. Loss.
Nov 4, Nebraska. Loss (or Win).
Nov 11, @Ohio State. Loss.
Nov 18, @ Indiana. Win (or Loss).
Nov 25, Penn State. Loss.

That's a 6-6 or 5-7 year Spartan fans. At $1 million a year, MSU could save $3.5 - $4.5 million if this happened in 2023. Let's create a different incentive and make coach Tuck work better for wins. Hell, at $1 million a pop, I'd take 9 or 10 wins this fall, wouldn't you?